Business Document Storage
Office space is expensive, and most businesses find that they quickly run out of available storage to keep all the important documents in the office. Rather than piling up storage boxes around the offices of all your employees (and drowning them in paperwork), consider bringing your business documents to Self Storage Plus' convenient, secure facilities to free up some space.
Safe and Secure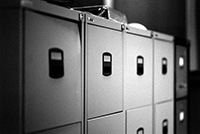 As a business, you need to store a lot of data, whether it's sales records, tax information, customer data, or other information that is required by law for audit purposes. We understand that those documents contain sensitive information, which is why at Self Storage Plus we provide the highest level of available security. We have only one way in and out of the facility, with controlled access through a computerized gate. Individualized keycodes for each client help us track who has access to the facility, and we limit the hours of access for added security. In addition, the entire facility is enclosed with fencing and steel-construction buildings, and we have 24-hour digital video surveillance throughout the entire storage facility.
Climate-Controlled
Some companies tell you that they offer climate control, but we take it seriously. Wild temperature swings, trapped moisture, and other climate-related issues can become trapped in your storage facility and damage your items. We offer year-round heating and air conditioning to maintain a constant temperature, preventing damage from excessive cold, excessive heat, or the resulting moisture that can accumulate due to changes in temperature. In addition, our facility is equipped with corrugated metal dividers that allow for better airflow than drywall.
Convenient and Affordable
When you run out of space at your office, Self Storage Plus provides you with a convenient and affordable option for keeping those records. With nine locations in Southwestern Ontario, you can find one that is located near your office and is easily accessible from nearby highways.
Commitment to Customer Service
The final reason to choose Self Storage Plus for your business documentation storage is our commitment to exceptional customer care. We're more than just a building - our friendly customer service representatives are available to help you with tips on packaging and storage advice for your items. We are happy to take deliveries of your business documents at no extra charge to you, or if you prefer to bring your items in person, you can use our dollies and hand trucks for free.
Your documents provide a valuable backup for your business, and in many cases it's a necessity to store several years of documents from your company. Instead of trying to find more and more space in your office setting, bring them to a safe, secure, controlled environment where you can rest assured they will be available in case you ever need to access them.